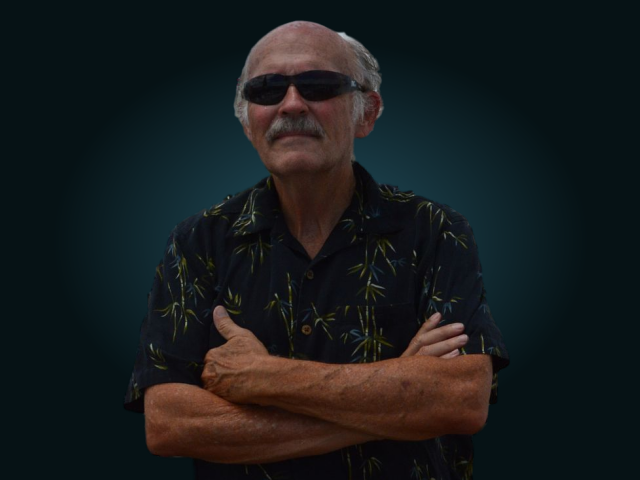 I'm Ken English.
For more than 30 years, I worked in the tourism industry – ski areas, cruise lines, hotels and travel agencies.
I was in sales, marketing and public relations.
I was
the road manager for a friend who became a popular motivational speaker before dying in 2007.
the executive director of the Miami Foreign Trade Association, and the Greater Miami Hotel and Motel Association.
a radio airtime broker, producing and hosting shows on Foreign Trade and Special Events, including the South Beach Splash! Watersports Festival in 2000.
After 9/11, things changed. They changed again in 2008. Each time, there was a tightening of marketing dollars.
Around 2004, while working for a cruise-only travel agency, I was asked to became the webmaster,  because I had experience in magazine publishing.
I learned how to use Frontpage and started building websites. It was a slow and tedious process. But I liked the creative elements. I knew it would take time to develop the skill necessary for online marketing. When I figured how to use it, Microsoft discontinued support. Enter WordPress.
In 2007, at my wife's "suggestion," we attended an internet marketing conference in Orlando presented by Mark Hendricks. It was a terrific experience. The conference introduced me to a new world of ideas. I learned about an internet radio platform called BlogTalkRadio.
I heard people talk about YouTube and Social Media, of which I knew nothing, at the time.
At the conference, I met Dr. Ron Capps, one of the speakers.
Dr. Capps, a communications professor at a midwest university, is known online as the Nicheprof. He and I launched the School of Social Marketing, an internet radio show, on the BlogTalkRadio platform, in August 2008. We had the longest running social media talk show on iTunes, doing show 200 on 1 April 2012. I produced the show.
I adopted the online persona of the BlogTalkRadioGuy in 2007, expanding to the MediaMojoGuy in 2010, when a client I was doing video for said "work your mojo and get this video indexed on Google." I did, the video was on Google's 1st page within 24 hours.
Ranking a video, or website, has become increasingly difficult over the years as Google refines it's algorithms.
I learned "MOJO" was more than magic, voodoo or, as Austin Powers believed, sex appeal.
MOJO was an abbreviation for Mobile Journalist. The term was coined by the Gannett Newspaper Group in Fort Myers, FL in 2005 when they decided to create a group of field reporters and equip them with cellphones, digital cameras and computers with a wifi connection.
I realized I was a mobile journalist, creating audio, video and text content for websites and blogs.
The most significant discovery, however, was the shear power of video with regard to indexing.
Since 2008, I've produced more than 5000 videos, ranging from 30 seconds to more than 20 minutes, on a dozen YouTube channels.
I learned how to produce video on an excellent platform called Animoto, and edit using Vegas Movie Studio.
While Vegas is more flexible, the learning curve is steeper.
Animoto allows a user to create a video from digital images, royalty-free music and some text. The PRO level enables you to render the video in high definition (1080p) which improves the clarity and allows for full screen viewing.
I spent 30 years in the Greater Miami area. The 80s were exciting, but times changed, and so had I. It became apparent it was time move on.
I've been in the Daytona Beach area since 11 September 2012. I'm creating video for this site, and others, and exploring some new opportunities.
I am the videographer for United Methodist Church of Port Orange . I was the social media manager and photographer for the Halifax River Yacht Club from January 2015 thru December 2018.
If you have an idea for a video project, or you'd like to learn how to produce basic video for yourself, send me a note with your phone number and we'll get together – KenEnglishDaytonaBeach (at) gmail.com.
Sketch animation. Digital images to video. Full motion with editing. Green screen. Avatars.
386.341.0313