Call 904.687.1521 (954.224.5005 in South Florida) to book Florida's most dynamic Elvis tribute artist!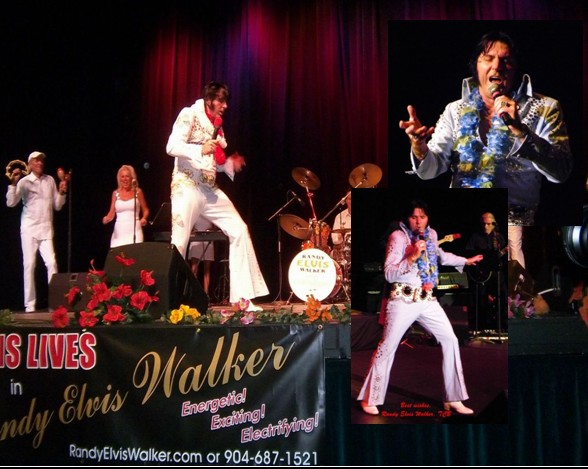 | | | |
| --- | --- | --- |
| | | Let Randy Elvis Walker "ROCK" your event. |
Randy Elvis Walker will travel to your location – worldwide!
Book Now for your Special Event Florida's most dynamic Elvis tribute artist RANDY ELVIS WALKER will "ROCK THE HOUSE" for your special occasion!
Ordained Minister / Officiate at Weddings'
Performs at Wedding Receptions, Theaters & Performing Arts Center, as well as Churches. Private & Corporate Events. Grand Openings & Other Special Occasions.
Email: Elvis@RandyElvisWalker.com
May is Military Appreciation Month.
We think of every month as National Military Appreciation Month. Please take a few minutes today to recognize and honor our current and former members of the armed forces, including those who have died in the pursuit of freedom and peace.
Here are some ways you can support our military veterans today:
– Fly the American flag at your house, on your car and at your business
– Send a care package to a soldier through "U.S.A. Cares"
– Send an e-mail or letter of thanks through "A Million Thanks"

– When you see a person in a military uniform, take a minute to say "Thank you for serving our country."

– Encourage someone you know to hire a Veteran today!

We can all do our part in showing we care.
Do not forget our Veterans. They are our Heroes!

Our American Veterans paved the way for us. They are excellent role models for our country. Our Veterans put their lives on the line for us. Our Veterans need to know we appreciate them. Our Veterans need our Love and Support, Medical Care, Housing, Food and Shelter.

THANK YOU AMERICAN VETERANS FOR SUPPORTING OUR COUNTRY!

To support American Vets with your donation, please go to http://www.dav.org

Thank You! Thank you very much for supporting our American Veterans!
*****
For Booking & Fan Club Information Send Randy a Note… Elvis@RandyElvisWalker.com
*****
Follow me on Social Media…
*****
Get your copy of the
Click here for pictures from
Graceland Express Book Release Party
"Elvis would be so very proud to know that there is a tribute artist like Randy Elvis Walker performing his songs! Randy Elvis looks like Elvis, sounds like Elvis, moves like Elvis and, most importantly, is the ultimate professional performer, just like Elvis Presley. I highly recommend Randy Elvis Walker as a performer and as someone who can help you market your product. He gave 150% effort to our "Graceland Express" book release party, and was an absolute delight to work with. I plan to include Randy Elvis in future marketing and entertainment events. Randy Elvis Walker is Elvis!"
Holly Feist, Palatka, FL
Let Randy Elvis Walker "ROCK" your event. — Book Now for 2020/2021! — 

Memories of Elvis, performed by one of America's most popular Elvis Impersonators / Tribute Artists______ 
* "Before Elvis, there was nothing"…John Lennon

Friends, as you know I am a HUGE supporter of Alzheimer's & Dementia, cancer research programs, such as the American Cancer Society and St. Jude's Research Hospital, and, of course, our military and veterans. My prayers and best wishes go out to caregivers, survivors and patients.

Parents of  children with cancer need our love, and financial support.

My fans and friends are supporters of St. Jude's which was one of Elvis Aaron Presley's favorite charities. St. Jude's, and the American Cancer Society, need our support for research. May God continue to bless St. Jude Research Hospital.

Many of us are affected by cancer through family members or through friends and their families.

I look forward to seeing you, soon.

Randy Elvis Walker 
Randy Elvis Walker with an Orchestra, DJ or sound system, is available for…

Private Events, Public Events, Corporate Functions and Weddings. All occasions big or small. We will travel! Contact us at 904.687.1521 or 954.224.5005
 *****
Act Now!

Call 904.687.1521 (954.224.5005 in South Florida) to book Florida's most dynamic Elvis tribute performer for your event in 2020!
________________________
"KIDS HAVE FUN WITH ELVIS"

Randy Elvis Walker with young fans!
________________________________________________
TREAT YOURSELF TO YOUR OWN ELVIS WEDDING.
OFFICIAL ELVIS WEDDING/WEDDING RECEPTION/WEDDING ANNIVERSARY/RENEWAL OF VOWS.


"Elvis was definitely at my wedding! 
Randy Elvis Walker was AMAZING as he officiated and performed at my wedding in Palm Beach, Fl.
Elvis came in and made my day very special and memorable from the moment he entered the building to the time he left.  Everyone was asking for more. My guests have been calling to say how much he sounds like Elvis and how he becomes Elvis during his performance and interaction.  I have been in the entertainment industry myself and have never seen any Elvis performer who looks, sounds, moves and has the charisma as Elvis like Mr. Walker.  I was totally surprised by my husband and mother when he filled in for the pastor and made my day very special and one I will never forget.  His performance was outstanding. Thank you Mr. Walker for being a part of my special day."  T. Holt, Germany
***
Welcome to My World
Main Page
RandyElvis Walker is a professional Elvis tribute artist who performs internationally. Known widely as Florida's voice of Elvis, RandyElvis has excited stages internationally with his Tribute to the King of Rock & Roll. His electrifying, energetic, exciting and interactive shows bring back memories of "The King of Rock & Roll" in his performances as Elvis. You'll feel the magic as if you are in the room with Elvis himself when he sings your favorite Elvis song. "Love Me Tender, Heartbreak Hotel, Blue Suede Shoes" and many, many more!

Getting married? Randy Elvis will officiate as well as perform at your wedding. His voice, movements, apparel, stage presence and charisma is reminiscent of Elvis. Even when not in costume, his resemblance is remarkable. It is one thing to look and sound this close to the "real person", but Randy Elvis entertains audiences in a way that leaves them laughing, clapping, cheering and screaming. Most importantly, remembering.
"RandyElvis Walker is Elvis reincarnated" and "An awesome, inspirational and enjoyable Concert" were some of the reviews from his SOLD OUT "Memories of Elvis Memorial Concert" at Flagler College Auditorium in St. Augustine, Florida on August 16, 2009.
The concert opened with Guest Star, Ms. Vicki Lee with her "Memories of Patsy Cline," RandyElvis' Live Band The Legendaires, Backup Singers, Professional Stage Lights and Sound Engineers provided by D. T. Productions.
Those who attended also said The Concert was "an unbelievable and classy show with Elvis reincarnated."

RandyElvis Walker was born in Dunedin, Florida.

RandyElvis is from a family of four generations of Musicians and Entertainers. At the age of four, he started singing in public with perfect pitch and perfect timing. At the age of eight he performed at Musicland USA with the Nashville Five Band and received two standing ovations as he sung "Jeremiah was a Bullfrog." At the age of ten he did his very first Elvis Concert. He has been performing professionally since. He was the first and only featured Tribute Artist to perform at the world famous Club Tropigala at the Fontainebleau Hilton on Miami Beach, on the actual stage Elvis Presley himself performed with Frank Sinatra (when he got out the Army) before it's billion dollar makeover. He has performed at several SOLD OUT venues such as the Largo Cultural Center, North Miami Theater of the Performing Arts, Oldsmar Cultural Center, the Jerry Lewis Telethons and 9th Annual Elvis Convention held in Orlando, sponsored by EP Continentals. Chinese Benevolent Association in Jamaica, Tony's kids in Peru, to name a few. Some of his most meaningful and memorable performances are at Graceland, the Blue Suede Shoes Saloon, owned by Carl Perkins, Belle Street and other hotels and clubs in Memphis throughout the ¡°80¡¯s¡± are treasured memories for him. The most meaningful and memorable event that means most to RandyElvis is being the first and only Tribute Artist at the very 1st Memorial for Elvis at Mud Island, Tennessee where he met all of Elvis Entourage and musicians. He has since performed with the Jordanaires, met and worked with many of Elvis' co-stars like Chris Noel (Girl Happy), Cynthia Pepper (Kissing Cousin) and Darlene Tompkins (Blue Hawaii). RandyElvis was invited to lunch with Sid Tipper who wrote lots of Elvis songs such as "GI Blues" "Angel" and "Puppet on a String." RandyElvis performed on the cruise ship to Hawaii where he had the opportunity to tour Coco Palms the very location Blue Hawaii was filmed, a month before it was demolished. RandyElvis performs at charitable events throughout the year. He enjoys working with Children, Seniors and Exceptional People. He has been a volunteer Guardian Ad Litem, and a Voice for audience of all ages, and an advocate for various charities such as American Cancer Society. Get RandyElvis Walker to "ROCK THE HOUSE" at your next occasion!