This video features an audio track of Harry Caray (longtime Chicago Cubs radio announcer) singing "Take Me Out To The Ballgame," and a 1949 song by Woodrow Buddy Johnson, entitled, "Did You See Jackie Robinson Hit That Ball."
The Daytona Cubs are a minor league baseball team based in Daytona Beach, Florida. The is plays in the Florida State League (FSL). It is a Class A-Advanced affiliate (Triple A) of the Chicago Cubs major league club.
The Cubs play at Jackie Robinson Ballpark. Opened in 1914, the ballpark was the site of the first professional game for Jackie Robinson in 1946. The park seats 5,100 fans and completed its most recent renovation in 2012.
The team is currently managed by Dave Keller, with Mariano Duncan as Batting Coach and Pitching Coach Storm Davis.
Brady Ballard took over as general manager of the Cubs in 2009.
Robbie Aaron is the radio play-by-play announcer and TV host for Cubs broadcasts. The team has won four FSL championships: in 1995, 2000, 2004 (co-champions with the Tampa Yankees), and 2008. Their fourth FSL Championship came over the Fort Myers Miracle, 3–1 in a five-game series. Tony Thomas was the series MVP.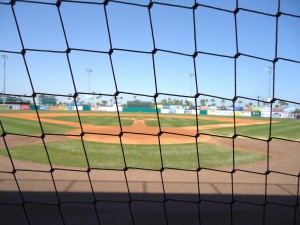 According to BaseballPilgramages.com, the first modern integrated game of professional baseball was officially played on these grounds on St. Patrick's Day in 1946 when an overflow crowd filled the still segregated ballpark for a Sunday afternoon game between the Brooklyn Dodgers and their Triple-A affiliate, the Montreal Royals. Thanks to Jackie Robinson, the game that started at 3 p.m. was anything but a typical meaningless spring training exhibition. Playing for Montreal, Robinson started at second base and went hitless in three at-bats, although he did reach base once via a fielder's choice and then scored one of his team's two runs after stealing second base. Jackie was removed after playing the first five innings of the game that the Dodgers won 7-2. Click here for the rest of the story.
The roster, as of 30 March 2013, which is subject to frequent changes, is as follows:
Pitchers
28 Eduardo Figueroa
11 Matt Iannazzo
34 Hunter Cervenka
43 Kyle Hendricks
21 P.J. Francescon
33 Matt Loosen
41 Scott Weismann
35 Matthew Spencer
32 Kyler Burke
49 Frank Del Valle
37 Jeffrey Lorick
30 A.J. Morris
40 Ryan Searle
Catchers
29 Micah Gibbs
20 Rafael Lopez
27 Taylor Davis
Infielders
1 Ronald Torreyes 2B
16 Javier Baez SS
Carlos Figueroa IF
3 Arismendy Alcantara SS
Outfielders
7 John Andreoli LF
25 Nelson Perez LF
6 Elieser Bonne RF
52 Anthony Giansanti LF
Jorge Soler RF
Evan Crawford CF