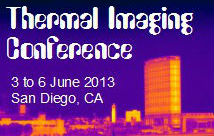 The 1st Thermal Imaging Conference will be held in San Diego, CA at the Omni Hotel from Monday, 3 June thru Thursday, 6 June 2013.
I'm working on a series of promotional videos and like the widescreen approach. Do you think shape of the display area has any impact on the viewer?
My goal is to show thermographers or thermal photographers, how to use the images they already have, and take on a regular basis, to produce video and distribute the video via social media channels, including, of course, a channel on YouTube.
If you're a thermographer, or just someone interested in learning more about infrared thermal imaging, consider attending the Thermal Imaging Conference in San Diego, CA from the 3rd thru the 6th of June 2013.
Widescreen

Standard

Speaker Update